This week we meet Tosh Askew, former England Under 19s Coach
Read about how he got into rugby, his coaching career with England, Loughborough University, Leicester Tigers then his move to Italy.

How were you introduced to rugby and how did your life in rugby develop?
I started playing at my local grammar school. Rugby was compulsory there and I really enjoyed playing in a good team from the ages of 12-16. At the weekend I was still playing soccer, but on a Monday, I'd hear my friends come into school and tell me what a great time they'd had playing rugby and socializing, so I switched and started playing Men's rugby from that point on.
From school I went to teacher training college and played for England Students before then playing for Liverpool Rugby Club which at that time was one of the top-20 teams in the country. I went on to play over 400 first team games for them over 13 years.
What is that steered you towards Rugby, rather than, say, Soccer?
What I always enjoyed about rugby was the team ethic and social element . The team is the most important element of the rugby game, and you can't play on your own. In soccer you can get away with having a team of individuals but in rugby there's a team dynamic and a requirement to be part of that team. For me, that's what sets rugby apart.
How did you get into coaching?
First, I became a teacher and so part of my everyday job was coaching different sports. Then one day I was playing for Liverpool away at Saracens and I was approached after the game by someone from the RFU who had seen how I read the game and spoke to my team-mates. He invited me to join what was effectively a fast-track RFU coaching programme.
I became the North of England U21s coach and after two years of success, I was asked to take charge of a combined North/Midlands U21s team that was due to play South Africa at Welford Road. This was in 1999 and the North/Midlands team had 7 players that would go on to win the World Cup four years later. I had a great team including Wilkinson, Moody, Cohen, Kay, Tindall and Thompson and we beat them that day. It was a great team and for me, it opened a door, and I had the right luggage to take through with me. From there I became an England U19 assistant coach which I did for 2 years whilst still teaching, but then quit teaching to take up a full-time role as England Under 19s head coach in 2001.
In 2005, a restructure at the RFU meant I left that role to become England Saxons skills coach. In 2007 I went to coach at Loughborough University for three years. It was a fantastic experience working with great players who were also really bright students studying sports science and other subjects. That was like having a human lab, we'd try new things and set up a practice, running a new drill. Afterwards we'd then adapt it, and the players would say, "Yes, that works", and apply it in a match situation. We went on to win the British University Championships at Twickenham. Based on my work there, Leicester Tigers came in for me and I had 5 years with them working in the academy. I actually lived in the house with the academy players, so it was like being a housemaster, working a 24-hour role, but this really meant we got to know each other so well and it helped with their development.
You then moved to Italy, how did that come about?
I left Leicester in 2016 but after two days of leaving I was called by an old opponent from Bath rugby who told me he had a job for me, coaching in Italy. He said I'd love it, so I went over with my wife to Genoa. It's a beautiful place to live and work and so we decided to pursue this opening.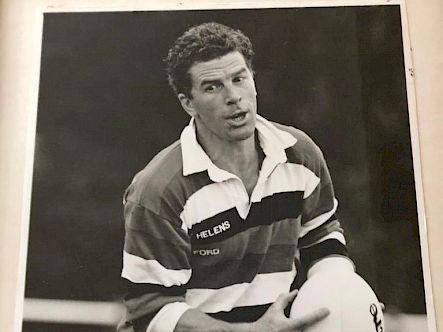 Published: Friday 08 October 2021